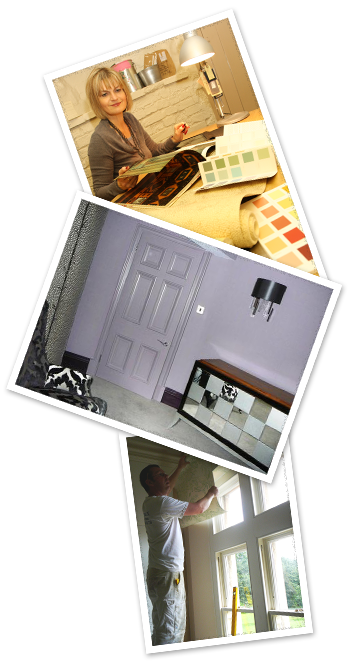 Website design paints a pretty online picture of decorating company
---
Who is Harborough Decorators?
We are skilled painters and decorators, trained to the highest recognised qualification in our craft – NVQ3 Heritage. This equips us to handle restoration projects on historic properties. This specialist work can be beyond the scope of some traditional painters and decorators.
We can hang all types of wall coverings – even those that are traditionally at home in listed buildings and stately homes. In fact, we've worked on SPAB (The Society For The Protection Of Ancient Buildings), National Trust and English Heritage listed properties. We have an expert (called Mac!) who's a dab hand at specialist decorating techniques, including trompe de l'oeil (murals or paintings that create the illusion of a real object or scene) and gilding as well as using specialist and unusual wall coverings.
In addition to using traditional skills, we are also contemporary decorators. Much of our regular work involves prepping and painting the interiors and exteriors of modern homes and buildings.
Choosing Ketchup Marketing
We've worked with Ketchup in the past – before Harborough Decorators was established. So, when we started this new business venture, we knew where to turn to get our brand out there on the web and in the real world.
New logo design
We were well aware that Ketchup has a team of in-house graphic designers and were confident in entrusting them to design the logo for Harborough Decorators. As you'll see, our logo isn't a run of the mill design. Instead, Ketchup has created a true crest to carry our brand. We think it is reminiscent of the quality and prestige of the work we do.
Bringing the website to life…
Once we had our new logo, it was time to create the website. Ketchup's web designers understood that we required something more artisan than your traditional website and created a pinboard effect site full of 'pinned' images and posts.
Our homepage is our blog, which best allows us to showcase the best of our work and our most recent innovations on a continual basis. After all, we're always taking on new challenges and using different techniques, so a static site would limit us.
The website is fully linked to all our social media so our customers can follow us in real-time online.
…and keeping things traditional
As well as creating our online presence, Ketchup also created business cards and flyers for us so we could advertise on the go – which is perfect as we're not an office-based operation. We're always moving about providing our services! Having flyers to hand makes it easier for our customers to recommend us to their friends and families (which is what we are always looking to do!).
It's incredibly useful to be able to outsource these projects to Ketchup. As well as having graphic designers in their team, Ketchup also has a team of professional copywriters. We knew the end results would look great and read well.
Do you want to work with Ketchup?
Ketchup offers a range of services from web design to print graphic design and copywriting. They are experts in marketing strategy and can help both new companies launch and established businesses grow their brand.
We recommend Ketchup. If you'd like to find out more about their services, you can reach them by calling 01476 852990 or emailing info@ketchup.marketing.
---